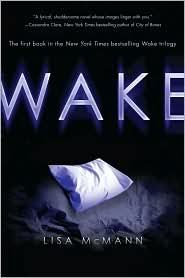 Title:
Wake
(Wake Trilogy #1)
Author:
Lisa McMann
Source:
Purchased; paperback 210 pages
Challenges
:
2011 Blogger Recommendation
For seventeen-year-old Janie, getting sucked into other people's dreams is getting old. Especially the falling dreams, the naked-but-nobody-notices dreams, and the sex-crazed dreams. Janie's seen enough fantasy booty to last her a lifetime.

She can't tell anybody about what she does they'd never believe her, or worse, they'd think she's a freak. So Janie lives on the fringe, cursed with an ability she doesn't want and can't control.

Then she falls into a gruesome nightmare, one that chills her to the bone. For the first time, Janie is more than a witness to someone else's twisted psyche. She is a participant…
My Rating:
3.5 stars
★
★
★

1/2
My Thoughts (mini review):
This was a very quick read. I finished it in two sittings (though it would've only taken one if I hadn't started reading the book at 10PM on a school night). It's written via third-person narrative, and usually in short simple sentences (which was personally kind of off-putting for me); here's a few lines quoted from the book, so you can see what I mean:
"She sighs and rests her head on the table. Tries to pull herself out of it, but fails miserably. She's too tired today. Too hungry. She really doesn't have time for this.

And then."
The book was kind of dark, but I liked it. I enjoyed the plot and characters very much, but I was left with A LOT of unanswered questions. Hopefully most of them will be answered in the next book, which I am eager to read. Overall I thought the book was good, but not fabulous. I definitely had higher expectations.
Warnings:
There was a lot of mature content in this book – sex, drugs, underage drinking, and even some child abuse.
In fact, when this book came in the mail, my thirteen year old sister said that she would like to read it when I was finished. Will I let her? Of course! I would never censor a book from my sister; I just don't think it's right to do that - ever. However, this isn't something I'd go out of my way to recommend to her. I'm definitely going to mention some of the content that I think may be "questionable" for a reader her age, and then let her decide on her own whether or not she still wants to read it.
Next in Series:
Fade