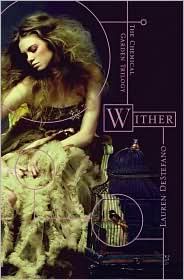 Title:
Wither
(The Chemical Garden Trilogy #1)
Author:
Lauren DeStefano
Source:
ARC 368 pages
Publication Info:
March 22, 2011; Simon&Schuster
Challenges:
DAC 2011
;
Dystopia
;
50 States
By age sixteen, Rhine Ellery has four years left to live. She can thank modern science for this genetic time bomb. A botched effort to create a perfect race has left all males with a lifespan of 25 years, and females with a lifespan of 20 years. Geneticists are seeking a miracle antidote to restore the human race, desperate orphans crowd the population, crime and poverty have skyrocketed, and young girls are being kidnapped and sold as polygamous brides to bear more children.

When Rhine is kidnapped and sold as a bride, she vows to do all she can to escape. Her husband, Linden, is hopelessly in love with her, and Rhine can't bring herself to hate him as much as she'd like to. He opens her to a magical world of wealth and illusion she never thought existed, and it almost makes it possible to ignore the clock ticking away her short life. But Rhine quickly learns that not everything in her new husband's strange world is what it seems. Her father-in-law, an eccentric doctor bent on finding the antidote, is hoarding corpses in the basement. Her fellow sister wives are to be trusted one day and feared the next, and Rhine is desperate to communicate to her twin brother that she is safe and alive. Will Rhine be able to escape--before her time runs out?
My Rating:
4 stars
★★
★
★
My Thoughts:
This book is so creepy awesome! Well, it actually is creepy, but in a good way!!! There were so many lines in the book that sent shivers up my spine! The whole concept of this virus that causes all women to die at age 20, and men to die at 25, is brilliant – as well as very scary for me. I could not imagine living in a world like that. And the fact that North America is the only continent left standing after a nuclear war (all the other land masses got buried underwater) – also super scary!! But these fearsome elements created such a complex and interesting dystopia. It was a world I was happy to get lost in, as long as it only exists in the book rather than real life!! I think the reason I found it so frightening was because these things are not completely improbable for the future, y'know?
I truly loved all the characters in this novel. I enjoyed the contrast between Rhine, Jenna, and Cecily - it was interesting to see many different girls' reactions to the situation. I also liked Gabriel and Linden, who both seem like very complex people, and I'm hoping we get to learn more about them both in the next novel. Now, let's talk about House Master Vaughn. *shudders* DeStefano definitely succeeded in creating a character that makes your skin crawl!!! In my mind, he reminded me a little bit of President Snow (from
The Hunger Games
) on the creeper/control-freak scale. Seriously, he is one extremely eerie man. That being said, the book would be severely bereft if he was any less macabre. His character brought so much to the story.
I cannot wait for the next book in this series!!!!! A great debut novel. If you like science fiction or dystopia, I would highly recommend this to you.
Cover Musings: While the cover is beautiful, I think the two circles connecting the wedding ring and the caged bird are a bit too blatant. It's already obvious that Rhine feels like a prisoner because of her forced marriage – do we really need the cover to spell it out for us like that? It's insulting to our intelligence as readers. What do you guys think?
Warnings: kidnapping, murder