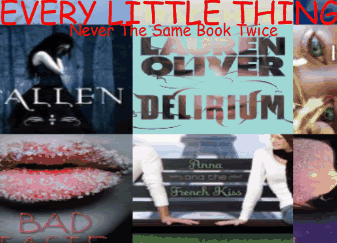 I started my blog back in September of 2010. I've always loved books and I wanted to share with others my thoughts on reading different books, without having to join a book club. And at the time, I only could think of a blog to start. And what do ya know, I've suddenly have friends that enjoy the same books as me!
Genres reviewed on her blog: YA/MG, Paranormal, Sci-fi, Fantasy, Romance, Mystery, Chick-Lit (pretty much anything except non-fiction)
If you could be any mythological or fantastic creature, what would you be and why?
"I would be a vampire. I am so in love with them!"
What is your most-anticipated 2011 book release?
Wolfsbane
by Andrea Cremer. It's the second book in the Nightshade series. I recently read
Nightshade
and instantly fell in love with the series! I'm hoping the second one is as good as the first :)
If you won the lottery tomorrow, what would you do with the money?
Ah. I've always dreamed of winning the lottery and I haven't really got all the kinks out of my ideas of what to do with the money, but here are some ideas of what I'd do.
I'd travel around the USA. Then visit Germany, Rome, and Africa.
I'd donate money to animal shelters (huge animal fan/lover here) and homeless shelters.
I'd get a bigger house. I don't live in a teeny tiny house, but a bigger house would help a lot :)
I have 4 pets. 2 dogs (Arrow and Bronte) and 2 cats (Angel and AJ).
Angel & Arrow
Who are your favorite authors and why? What book would you recommend to someone who has never read that author before?
"Favorite authors..Hmm..They would have to be MaryJanice Davidson (I recommend you try her hilarious
Undead
series), Jodi Picoult (I've only read her
My Sister's Keeper
, but fell in love with her! Read that one, and you'll re-consider life) and Becca Fitzpatrick (she's a new favorite of mine, since I recently read her
Hush, Hush
and absolutely loved it! So, I suggest you try that series of her's :)) "