Olivia from Magical Books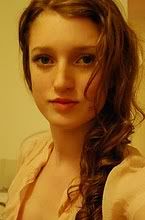 I had been thinking about creating a book blog for a long time before I finally started Magical Books this January. So I've only been blogging about two months now, and I love it! I've been reading books as long as I can remember and read almost every common genre, mostly YA fiction but sometimes adult fiction as well (though I don't review it on my blog). I live in Sweden, am 14 years old and suck at writing these kind of thingies in which I have to introduce myself. So let's get on with the questions, shall we?
Genres reviewed on her blog:
YA/MG (sub-genres:
Paranormal, Historical Fiction, Sci-fi, Fantasy, Chick-Lit
)
What made you decide to start blogging?
Ever since I stumbled upon the book blogging community I found myself creating blog posts and reviews in my head, imagining that I had my own blog. So I started thinking about whether I should start a blog or not, and eventually created Magical Books.
What are some of your favorite hobbies?
I'm really into playing the piano (I've done it for about four years), playing video games and spending my time doing nothing but randomly surfing around on the Internet. I also really love photographing, though I do it mostly in the summers. And then, of course, I love being with my friends, eating candy and watching movies all night long together with them.
If you were stranded on a desert island and could only have three of your possessions, which three things would you choose?
First off, I would like to have a Kindle with me. Endless amounts of books, hooray! I would take the one with 3G, I hope that the signal reaches to my little island! Just in case that the 3G signal does not reach to the island, or if I would grow tired of the place, I would like to have a boat with me! And lastly, I wouldn't want to get hungry, so why not take with me a magical gadget that can produce food out of thin air?
What is your favorite season of the year? What do you like about it?
My favorite is definitely that wonderful time at the ending of spring and beginning of summer. I hate winter because it's too cold. And I hate the summer because it's too warm. The fall is just depressing. So the ending of spring is perfect! Everybody is happy since school's soon over, and it's the most comfortable temperature ever!
If you could be a superhero, what kind of powers would you want to have?
Teleportation! It would save me soo much time. And I wouldn't have to bring a boat to the island I will get stranded on ...!
Alyssa: Oh, I feel you on that one!! There isn't a day that goes by that I don't wish I could teleport! It would be SO convenient!
✦✧
✦✧
✦✧
✦✧
✦✧
✦✧
✦✧
✦✧
✦✧
✦✧
✦✧
✦✧
✦✧
✦✧
✦
Head on over to Olivia's blog, Magical Books, and take a look around!
If you'd like to be featured on Behind the Blog, fill out THIS FORM