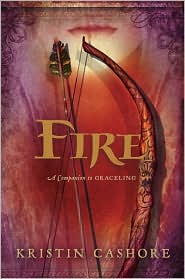 Title:
Fire
Author:
Kristin Cashore
Source:
Library ; Hardcover: 461 pages
Interest:
Companion to
Graceling
(which I
loved
!!)
Official Blurb:
She is the last of her kind...
It is not a peaceful time in the Dells. In King City, the young King Nash is clinging to the throne, while rebel lords in the north and south build armies to unseat him. War is coming. And the mountains and forest are filled with spies and thieves. This is where Fire lives, a girl whose beauty is impossibly irresistible and who can control the minds of everyone around her.
Exquisitely romantic, this companion to the highly praised Graceling has an entirely new cast of characters, save for one person who plays a pivotal role in both books. You don't need to have read Graceling to love Fire. But if you haven't, you'll be dying to read it next.
✦✧
✦✧
✦✧
✦✧
✦✧
✦✧
✦✧
✦✧
✦✧
✦✧
✦✧
✦✧
✦✧
✦✧
✦✧
✦
My Rating:
3.75/5 stars (lol I was really torn between 3 stars or 4)
★★★★
My Review:
This paled in comparison to Graceling. The prologue chapter was excellent: very intriguing and tied-in well with the plot of Graceling. After that; however, the story seemed to drag up until about half way through, contrary to the consistent action-packed plot of Graceling. Thankfully, the pace
did
pick up eventually. I thought the concept of "monsters" was very unique and enjoyable. I also liked how Cashore slowly unraveled the past via Fire's memories and reminiscences throughout the book, kind of like a puzzle coming together piece by piece. Besides the slow plot, I have two other criticisms of the book:
I thought that Leck's role in the novel seemed disconnected from the main storyline. I understand he is a crucial character to Graceling, but I thought his side-plot could have been taken out of the book and the story wouldn't have suffered. I just didn't think that it fit all that well with everything else that was going on. ....Speaking of Leck, I'd recommend reading Graceling before Fire, as not to spoil the plot of Graceling.
So many illegitimate pregnancies! It was as if someone took an episode of 16 and Pregnant and combined it with a "Who's the Father?" episode of Maury.
Overall, it was a good read, but probably not something I'd read again. I definitely think Graceling was a better book... but perhaps I was just setting my expectations too high for Fire.
Books like this:
Graceling
by Kristin Cashore;
Song of the Lioness Quartet
by Tamora Pierce