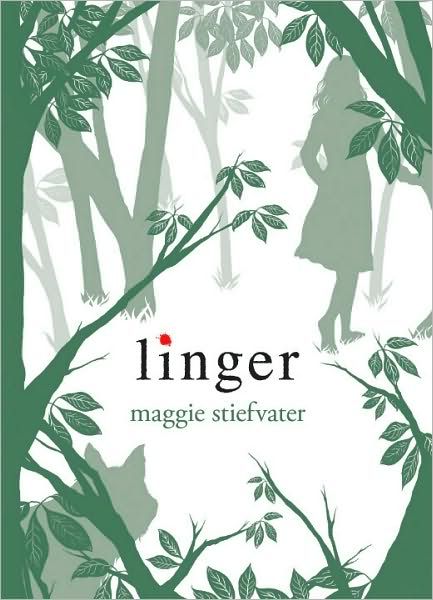 Title:
Linger
(Wolves of Mercy Falls Series - Book 2)
Author:
Maggie Stiefvater
Source:
Library; hardcover 360 pages
Interest:
series
Challenges:
50 States
;
Shifters
;
Blogger Recommendation
;
TwentyEleven
Official Blurb:
In Maggie Stiefvater's Shiver, Grace and Sam found each other. Now, in Linger, they must fight to be together. For Grace, this means defying her parents and keeping a very dangerous secret about her own well-being. For Sam, this means grappling with his werewolf past . . . and figuring out a way to survive into the future. Add into the mix a new wolf named Cole, whose own past has the potential to destroy the whole pack. And Isabelle, who already lost her brother to the wolves . . . and is nonetheless drawn to Cole.
At turns harrowing and euphoric, Linger is a spellbinding love story that explores both sides of love -- the light and the dark, the warm and the cold -- in a way you will never forget.
My Rating:
5 stars (favorite!)
★★★★★
&
♥
My Thoughts:
There isn't a thing I would change about this book; I loved every single aspect of it.
I absolutely loved all the characters (except maybe Grace's parents – I didn't like them so much haha). Each main character has his/her own back-story, and it was really enjoyable to watch them slowly come out of their shells [so to speak] with each other.
Stiefvater's writing is really beautiful, and the story flowed seamlessly, despite the alternating narration between the first person POVs of four different characters. Some books that have this type of storytelling tend to be disjointed, but Linger was far from it.
And once again, as I said in
my review of Shiver
, much credit to Stiefvater for creating a fresh take on the run-of-the-mill werewolf story. I truly appreciated that when the werewolves are wolves – they're really
just
wolves. Just plain old animals that live in the forest -- simple-minded beings that are ruled by natural instincts, not anything supernatural. It brings forward a new issue to the mix: the fear of losing oneself to the wolf. Each werewolf deals with this in a different way, and it's very interesting to see both sides of the coin: Sam wishes to stay human, but Cole wants the opposite -- he longs to remain a wolf so he can live freely and avoid the pressures and hardships of life.
I definitely have to go out and purchase a hard copy of this book because simply reading it is not enough, even buying the e-book is not enough – there are so many great quotes in this book, I have to have a physical copy for my currently-nonexistent-bookshelf. And of course, who buys the second book in a series without owning the first one? Looks like I'm gonna have to buy a copy of Shiver as well!
On a side note: I love the cover, and that the book is printed in green ink to match. It's a nice touch.