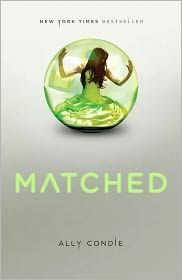 In My Mailbox is hosted by The Story Siren. This week I only got one new book, which I had ordered online a while back and finally came in the mail:
Whats Your Status?
Read in the past week:

Linger by Maggie Stiefvater (my review)
Hunger by Jackie Morse Kessler

Currently Reading:

I Am Number Four by Pittacus Lore (on page 287 of 440)

Up Next: haven't decided yet ! Lol
Other News:
According to the poll, it looks like my new feature "
Behind the Blog
" is most likely going to be running on Mondays. I'm hoping to have the first post next week (February 7th)
Also, I installed a new comment system - I thought this would be more interactive because of its reply feature. Love it? Hate it? Let me know! Have a good weekend & Happy Reading
☺