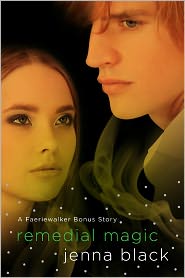 Title:
Remedial Magic
Author:
Jenna Black
Source:
Free e-book;
BN
//
amazon
[also includes Prologue & Chapter 1 of
Glimmerglass
]
Official Blurb:
Delve deeper into the world of the fae with a Faeriewalker bonus story.
Having a prodigy for an older brother is not so fun…especially one who is magic wiz-kid. But Kimber has a plan to finally step out of his shadow.
My Thoughts:
I thought the short story was fun and humorous, though the author's writing style left something to be desired.
I haven't read Glimmerglass yet, but I've been seeing it all over the blogosphere, so I was excited that the prologue and first chapter were included in the e-book along with the short story. I think I might have to purchase Glimmerglass on my Nook now, because I can't wait to read the rest of it -- those sneak peak chapters really drew me in!