My Book Boyfriend
is a new Wednesday meme hosted by
The Unread Reader
, in which we drool over fictional characters who make us swoon. I thought this would be really fun (except that I hate trying to find already-existing real people to try and match the pictures of the characters in my mind... oh well, I shall try my hardest to accurately depict my visions haha) and I figured that on Wednesdays I'd alternate between this and Waiting on Wednesday (hosted by
Breaking the Spine
) So here goes! My first Book Boyfriend post:
Alex Pettyfer as Jace
Jace Wayland
Why I love him:
ummm... is "because he's just awesome!" enough of an explanation?! Yea, I didn't think so either, so I'll elaborate a bit.
He's brave and loyal -- and I also love his sarcasm and snarky comments, it adds a lot of humor to the books. I couldn't imagine the Mortal Instruments series without him! Second of all -- he's hot! Good looks are always a plus ;)
Picture:
A lot of people think that Alex Pettyfer personifies Jace, and I have to agree with them. He seems to fit the description of Jace (minus the gold eyes and Marks), and looks how I pictured him.
Quotes:
"Don't order any of the faerie food. It tends to make humans a little crazy. One minute your munching on a faerie plum, the next minute you're running naked down Madison Avenue with antlers on your head. Not that this has ever happened to me."
(City of Bones)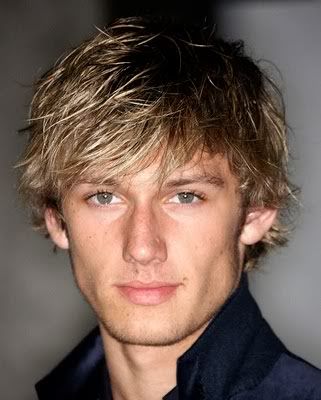 "Usually, I'm remarkably good-natured. Try me on any day that doesn't end in y."
(City of Ashes)
"I'll just have to change the entry in the demonology textbook from 'almost extinct' to 'not extinct enough for Alec.' He prefers his monsters really, really extinct."
(City of Ashes)